Marco Huck: My 2012 Fighter of the Year
By Michael Amakor | January 30, 2013
Too often in boxing, great fights never get seen because they did not get featured on HBO or Showtime.
Even when they do, those fights get quickly forgotten when more popular fighters repeatedly take center stage.
In deciding on my fighter of the year for 2012, I used several factors to arrive at my decision including giving more points to a fighter from heavier weight classes, rating the caliber of competition, judging the entertainment value of fights they had and post fight sentiment, and removed the restriction that they fighter remain unbeaten during the year.
Using those factors I choose Marco Huck (35-2-1, 32KO's) the reigning World Boxing Organization's (WBO) Cruiserweight champion and #1 ranked fighter in the division according to Fightnews.com as my fighter of the year, a brawler popular in ..click here
---
UNIFIED AND UNDISPUTED CHAMPIONSHIP HOPES FOR 2013: CRUISERWEIGHT DIVISION
By Michael Amakor | January 5, 2013
WBA: Denis Lebedev (Russia)
WBC: Krzysztof Wlodarczyk (Poland)
WBO: Marco Huck
IBF: Yoan Hernandez (Germany)
IBO: Danny Green (Australia)
They last time this division had a unified and undisputed champion was back in 2006 when O'Neil Bell stopped Jean Marc Mormeck to unify all the belts in the Don King promoted undisputed cruiserweight world championship, but they division lost its focus shortly thereafter.
Currently, the various titles have been seized by a group of brutal sluggers with Huck (35-2-1, 25KOs), Lebedev (24-1, 18KOs), Wlodarczyk (47-2-1, 33KOs), Hernandez (27-1, 13KOs) and Danny Green currently at the top of the food chain after a recent game of fistic musical chairs in 2012.
Hernandez twice bested former titlist Cunningham and Troy Ross to win and retain the IBF title. Danny Green regained the vacant IBO title after the IBO stripped Antonio Tarver for testing positive for a banned substance.
Dennis Lebedev was enthroned as the new WBA champion, after the WBA stripped Guillermo Jones for being inactive since 2011. Marco Huck fresh off his close loss to Povetkin for the interim heavyweight title stepped back down to put down violent uprisings to his reign by Ola Afolabi and Arslan Firat in wild brawls he barely escaped, all in just 2012.
Krzysztof Wlodarczyk, the longest reigning champ has been feasting on shot fighters past their prime and only fought once in 2012, but he is still remains dangerous but untested.
Every single championship fight in this division has been a wildly entertaining brawl, but it will be difficult for a dominant unified and undisputed champion to emerge in the cruiserweight division as none of these fighters are based in the United States were the momentum for unification historically originates from.
Another impediment that has prevented the continuous campaign for a unified and undisputed champion in this division are they light purses former champions earned in the past until only quite recently. The fighters and champions in this division have reacted by using the division as a temporary pit stop on their way up to the heavyweight division and its perceived heavier purses instead of staying put and unifying the titles in the division.
But there is a glimmer of hope that Hernandez and Huck may get to square off in an all-German super fight if they can get past Eric Fields or Ola Afolabi in their next fights respectively, but if either of them losses, all bets will be completely off, and even partial unification will be kicked forward indefinitely.
---
Fields: Hernandez is in Danger!
December 28, 2012 - Ardmore, Oklahoma, power puncher Eric "Danger" Fields (21-1, 15 KOs) is hoping he'll be underestimated when he brings his heavy fists to Germany on February 2, 2013, to face IBF Cruiserweight Champion Yoan Pablo Hernandez (27-1, 13 KOs) at Max-Schmeling-Halle in Berlin.
Fields and Hernandez will meet in the main supporting bout of the European Light Heavyweight Championship main event between Eduard Gutknecht and Juergen Braehmer.
"This is his third defense and he's had some big wins and he's a southpaw, so I bet he's feeling real confident fighting a guy in the top 15. Well, guess what? He's in danger and he won't..click here
---
Huck Defends WBO Belt in Thriller
November 5, 2012 - The Fans at the Gerry Weber Stdion in Halle/Westphalia, Germany, witnessed a great show. WBO Cruiserweight World Champion Marco Huck defended his title for the tenth time in front of 7.000 spectators. After twelve thrilling rounds, the judges saw the 27-year-old with 115:113, 115:113, and 117:111 ahead of his opponent Firat Arslan. After his 35th victory out of 38 fights as a professional, Huck is expected to receive the status as WBO´s Super-Champion.
But the bout against Arslan was anything but plain sailing. "I fought like a lion ..click here
---
Marco Huck to defend WBO title against Firat Arslan
Fans of all-action fights can look forward to another highlight this fall. On November 3, WBO Cruiserweight Champion Marco Huck is going to defend his beloved title against "fighting machine" Firat Arslan. The venue for this world championship bout will be the Gerry-Weber-Stadium in Halle/Westphalia, Germany.
For Huck, it will be a return to the place of his biggest victory. Exactly three years ago, the now 27-year-old fighter dethroned then WBO titlist Victor Emilio Ramirez from Argentina and became a world champion himself. Since then, the cruiserweight, who was raised in Bielefeld, Germany has defended his championship nine times. Huck wants Arslan to be number ten on that list. A win would also be special, as the World Boxing Organization would crown Huck their Super-Champion at cruiserweight. "That is an extra motivation", said Huck. "I would be the first fighter in our Team to receive that honour. I will not let the chance of becoming WBO Super-Champion slip away."
Nevertheless, in Firat Arslan, the prodigy of Ulli Wegner will face the number eight-ranked fighter by the WBO, who will be anything but an easy ride for him. "He is a real machine, constantly putting pressure on his opponents. Moreover, he is a southpaw. I will have to be in top condition," according to the world champion.
Sauerland Event managing director Chris Meyer: "We are happy to be hosting another all-German affair. These are the kind of fights, which polarise the masses. Huck against Arslan is also a fight between a current and a former world champion. That gives it some extra spice."
Tickets for the event on November 3 can be purchased online at www.eventim.de or www.gerryweber-stadion.de. Further information can be obtained at www.boxen.com.
---
Hernandez Defends belt vs Ross on September 15
Yoan Pablo Hernandez (26-1, 13 KOs) will take on the challenge of his mandatory defence. The 27-year-old IBF Cruiserweight World Champion will face Troy Ross (25-2, 16 KOs) on September 15 at the Stechert Arena in Bamberg, Germany.
Hernandez won the interim WBA title back in February of last year in Muelheim (Ruhr) against Steve Herelius from France. He really shot to fame on October 1, 2011. In Neubrandenburg he dethroned the then IBF World Champion Steve Cunningham by a technical decision. The rematch against the American took place in Frankfurt (Main) in February. Hernandez sent
Cunningham crashing to the floor twice during round four.
But the former champion refused to give up and fought his way back into the fight. After twelve rounds the judges saw Hernandez in front of Cunningham and scored the bout with 116:110, 116:110 and 115:111 in favour of the Cuban. As a reward he did not only regain the IBF-Belt but was also awarded the belt of "The Ring" magazine.
"This was one of the best Championship fights I have ever seen," said Coach Ulli Wegner afterwards. "Yoan Pablo once again proved his class and won against a very strong and competitive Steve Cunningham." Now the trainer and his prodigy will be travelling to Bamberg.
In Troy Ross, currently number three in the IBF rankings, Hernandez faces a tricky opponent. "He is very quick, agile and throws hard punches. I saw his title bout against Steve Cunningham back in June 2010. He was really strong but had to stop the fight due to a heavy cut. He was really unfortunate and will try everything to beat me and become the new world champion."
Tickets for the big fight night at the Stechert Arena will be available atthe end of the week. They can be purchased online on www.eventim.de and www.boxing-online.com.
---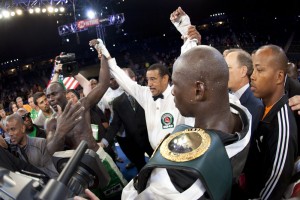 ANTONIO TARVER AND LATEEF KAYODE FIGHT TO DRAW
CARSON, Calif., (June 3, 2012) – The age-old question of who wins out – experience or youth – was only half answered Saturday night on a compelling night of fights on SHOWTIME CHAMPIONSHIPS BOXING.
Former Light Heavyweight World Champion Antonio "Magic Man" Tarver (29-6-1, 20 KO's), age 43, and unbeaten 29-year-old Lateef Kayode (18-0-1, 14 KO's) fought to a 12-round draw while 28-year-old Peter "Kid Chocolate" Quillin (27-0, 20 KOs) took out 40-year-old former undisputed 154-pound champion Winky Wright (51-6-1, 25 KOs) by unanimous 10-round decision in the final two of four televised fights from The Home Depot Center.
Kayode, who had graduated from ShoBox to the big stage and was fighting in his ..continue
---
Ulli Wegner believes that Yoan Pablo Hernandez (25-1, 13 KOs) victory over IBF Cruiserweight Champion Steve Cunningham (24-3, 12 KOs) should have been a first round KO rather than a sixth-round technical decision.
The hard-hitting Cuban knocked down his American opponent in the first round with a huge left hook. "The referee saved Cunningham from a flash KO," Wegner said of the count that lasted at least 14 seconds. "He gave Cunningham too much time to recover. And then his corner extended the recovery time between the first and the second round by staying in the ring after the .. continue